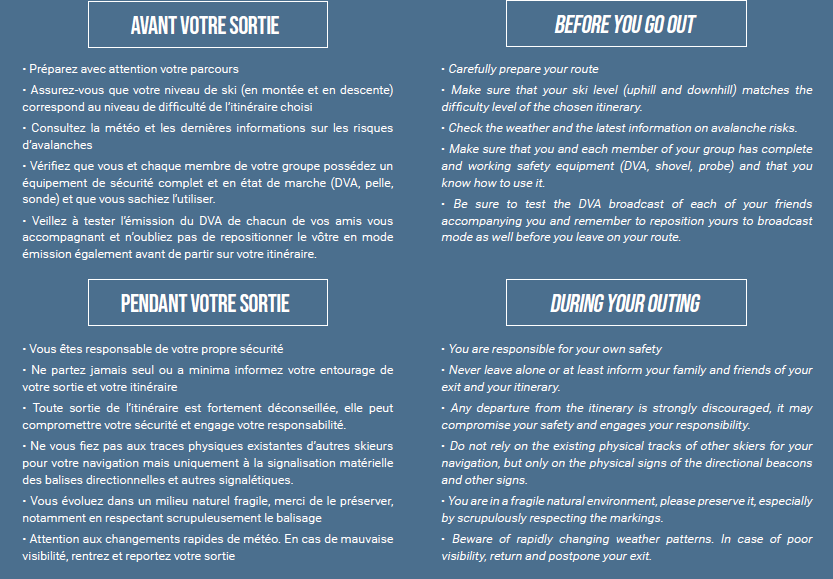 Maintaining your equipment
In ski touring, we are dependent on equipment. It is subjected to severe tests because it is often used in difficult or even "extreme" conditions.
To avoid premature wear and tear, breakage and to hope to use it for as long as possible, you must take great care of your equipment and check it regularly. It must be maintained, dried if necessary, repaired and stored properly.
The Ski


Regularly check the sole, do not hesitate to plug the holes and wax the soles hot or cold for a good glide. If your soles bleach, it's because they lack wax. Also check that there is no glue left over from the skins.
An important point to watch out for is the condition of the edges. They can peel off and need to be sharpened regularly (use a template for sharpening or professional skills).
When storing your skis, do not store them tightly together as they will lose their nervousness.
At the end of the season, before storing your skis, wax the soles well to prevent them from drying out.
The Sticks


If you use telescopic handlers, remove them completely from time to time to clean them with water only and dry them. Do not use any grease, you may not be able to close them (see the manufacturer's manual).
If your sticks are crooked, it is better to change them than try to straighten them. They have become fragile and risk breaking at the earliest opportunity.
Check the condition of the washers and tips, it is possible to change them.
The Shoes


Always remove slippers and insoles for drying.
Check the hooks and tabs on the shoes.
It is a good idea to mark your shoes to avoid switching them with someone else. All shoes and slippers look the same in shelters.
If the soles are worn out, you can have them repaired.
The Skin


To dry them, use room temperature. Keep them folded up without crushing them.
In shelters, to avoid exchanging them with others, mark them.
If they don't stick very well at the ends, cut them a little bit (still in round shape) or glue them again. You can also have them re-glued completely.
The lifespan of the skins depends on their wear and tear. They tend to wear out on the edges. When your skin no longer holds you back, it's time to change it.
The Shovel and the Probe


Take the time to remove them from the bag, assemble and dismantle them, check their proper functioning.
Think of rust spots, clean them, dry them regularly.
The DVA

Take him out after each hike. Check the batteries regularly.
When changing batteries, use only new and alkaline batteries (see manufacturer's manual)
Remove batteries at the end of the season.
Protect it from moisture and heat.
Some devices must be returned to the manufacturer for verification. This information is specified in the operating instructions.
Handling the cold
The best way to protect yourself from the cold is to equip yourself effectively.
SOME ADVICE
At the start for the ascent, do not stay too covered, always plan a change of clothing that you will use before starting the descent (underwear soaked by perspiration has a high cooling capacity by conduction).
Adapt a multi-layer strategy, to adapt the heat efficiently by removing/adding layers as temperature and stress conditions change.
The extremities, remember to protect your head. The majority of heat loss occurs through the head, hands and feet. One pair of emergency gloves per person is not luxury.
Whatever the conditions, always wear gloves, avoid uncovered arms (in the event of slips, burns caused by snow are very long to heal) and cover your head.
A very practical tip: The heaters, inexpensive, and sometimes rechargeable. They save your life when the gloves are no longer sufficient, or if you had to remove them; your hands have cooled down and you will "lock" cold in the gloves, so it will be very difficult to warm up.
To orientate yourself, the traps in winter
Here are some traps to avoid:
I know the itinerary in summer so I can go even without a map. A mistake is always possible, who has never been wrong? The snowpack changes the landscape, and in case of fog...
Just follow the path or GR that is shown on the map. Wrong, in winter you will not see the road or the markings any more and there is often divergence of itinerary according to the seasons.
Orientation techniques are the same in summer and winter. This is partly true, but the issues are often different. Indeed, markings, paths or other possible landmarks (ruins, rocks...) disappear under the snow.
Never forget your gear no matter what the outing, or weather forecast:

a 1/25,000 card,
a card holder,
a pencil,
a compass,
GPS is a very good complement. It is of course necessary to know the instructions for use and ensure that it is in good working order. In case of doubt about your location, do not hesitate to consult your map, check back regularly,
Is the cardholder "useless"? Wrong, you are regularly asked to read your map when the weather conditions are bad (snow, wind...). Protecting the card keeps it in good condition until the end of your trip or raid.
A ski mask may also be necessary to correctly read a map in bad weather and to find your way.
The weather forecast is good, so I'm not planning my trip and I don't bring the orientation material. Be careful, forecasts may vary locally.
It is an itinerary that I do not know but which has the reputation of being very busy,"it is therefore useless to prepare my exit. ..." Wrong. Be careful, the "world" may not be there, and poor visibility may prevent you from seeing other skiers.
There's a trace, I can follow it to the top. Be careful with the tracks. Where are they going? By whom were they made, do you have the same technical level? When they were achieved, conditions may have changed. ?
Prepare your Ski Touring Trip
Choose your route :
Start off on easy courses, and above all at your level to please yourself. A poor course selection can compromise your safety, or simply the enjoyment of the outing.
1 - Consult the snow and avalanche bulletin and the weather forecast for the area concerned.
2 - Choose the exit according to the difference in altitude, and the maximum slope that you can control when descending or climbing. Do not forget that the condition of the snow changes the difficulty of a race.
3 - Consult the topos, the websites that describe your race (timetables, period, material...). Some sites or forums allow you to read recent reports of the race you are planning (snow condition, photos, precise information), and to gather valuable information among them:
> www.skitour.fr > www.camptocamp.org
Before the start :
Small inventory of essential ski and rescue equipment: > DVA, battery status > Sensor > Excavator
Condition of the skins, sufficient glueing, condition of the tighteners...

State of safety fasteners, proper functioning of fasteners
Bottom of the bag: List of things that should almost never leave the bag:
Survival blanket, large thick model
Rope, for small repairs of the bag, skin tensioners, shoe buckles.
Heaters, for hands and feet.
A first aid kit
Headlamp - Front lamp
Pair of replacement skins, they will sometimes be useful in case of very cold snow which favours the detachment of the skins, and if you have to carry out several manipulations, you can alternate pairs of skins.
Departure from the planned exit:
You should not hesitate to change your itinerary if the snow conditions encountered are not as expected: lack of snow, or bad quality of snow (hard snow on an exposed passageway or large accumulations for example).
Tell someone close to your destination and the expected time of return.
Remain attentive to the fatigue of the group and do not hesitate to communicate with each other.
Check your initial timing and adjust accordingly.
Always plan an alternative route.
Always remain humble in front of a slope or passageway. If you have any doubt, never engage, try to bypass the passage or turn around if you can. The conditions
Practicing mountain biking in winter without any training in the use of rescue and search equipment can be dangerous. The only possession of the equipment and self-training do not allow safe access to cross-country skiing.
The mountain environment in winter is fragile, the fauna is in a situation of survival, excessive disturbance can condemn it.
Respect the exclusion zones, consult our Eco-Attitude articles
The rest
Do not interfere with the rest of the equipment and clothing unless you feel competent. For example, when repairing a backpack or jacket with membrane, it is best to call a professional such as a shoemaker or return to your supplier.
Texts taken from the book "ski touring" published by Patrice Vargel's Glenat.
In the event of avalanche risks, it is advisable to keep clear distances between skiers so as not to take the risk of being caught together in an avalanche, and to ski only in one track so as not to weaken the snow cover.
If there is a risk of avalanche, it is preferable to descend one after the other. The meeting point must be safe, each skier must see and be seen at all times.
If you ski first downhill, when you encounter an obstacle or danger, report it to others by stopping for example. It is for this reason that the following people must absolutely always stop above the skiers in front of them.
Snow evolves and changes. This can happen quite quickly, especially on sunny slopes. If your downhill route is exposed to the sun (south), plan to leave early.
Snow-weather conditions can be tricky. It is imperative to have the reflex of skiing carefully and choosing the safest route.
It is also necessary to know how to give up a beautiful slope!
Tip: The best way to recover when standing still in a steep pass is to plant your downhill ski through the heel in the snow to the shoe. This allows you to relax your muscles while making sure that you don't accidentally leave the slope.
STRESSES ON THE SNOWPACK
A skier on the downhill overloads it much more than on the uphill side,
If its technical level is low or medium, it also overloads it more when it starts turning,
If this skier falls, the constraints are very important,
If several skiers go down together and very close to each other, they also overload the snowpack,
=> For all these reasons, aggregation points, however frequent they may be, should not generate overload. They're done in a safe place.